Buyer's Guide for Teen Skincare: Toners
As a board-certified dermatologist, and mother to 3 daughters, I am committed to finding the best skincare products for their skin! Our girls' skin requires skincare that work specifically for them, at this stage in their lives. Together, we've tried hundreds of different products and formulations, searching for the Goldilocks concoction that is "just right" for tween and teen skin.
Why should you consider a toner in your teenage skincare routine? Toners are a great adjuvant for removing any dirt, makeup, or excess oil left behind after cleansing in the evening. Alternatively, you might choose to use a toner as part of your morning routine. I have had many patients over the years that prefer to use a toner in the morning, instead of washing their face with a cleanser. The toner works to remove any sweat or oil that has accumulated over the night, and can sometimes be less irritating to skin compared to performing a full cleanse. It's important to listen to your skin, and appreciate how it responds to any skincare regimen. 
The ideal toner will remove dirt, makeup, and pollutants from skin while supporting your skin's microbiome. Toners should be gentle enough that your skin feels nourished, strong, and clear. Additionally, toners should be pH-balanced to work with your skin's natural pH, which is mildly acidic. When your skin is very dry, moisturizers and other products have a harder time absorbing. An effective toner will hydrate and calm your skin, allowing your moisturizer to better penetrate into your skin. 
As an added bonus, a toner might have hydrating or calming ingredients that work to balance your skin and decrease inflammation. 
After years of field research, I am excited to share with you the best facial toners that I've found for teen skin! 
--Dr. Angela
1. SK-II Facial Treatment Clear Lotion Toner
$76 (5.4 oz)
SK-II's facial toner is pure luxury for your skin! Formulated for all skin types, this hydrating toner reduces skin dullness while evening out skin tone. Alcohol-free, this toner exfoliates skin with AHAs. SK-II is a Japanese cosmetic brand based on a component derived from yeast.
2. Bright Girl by Angela Casey MD Bright Tone Hydrating Toner
$24 (5 oz)
pH-balanced to work with your skin, Bright Girl Bright Tone hydrates your skin, keeping it protected and strong. Chamomile, marshmallow root, and aloe (among other gorgeous ingredients) soothe inflammation in the skin and work well with teen acne regimens. Glycerin and coconut oil provide much-needed moisture without clogging pores. Bright Girl is a clean, clinical, dermatologist-created skincare brand specifically made for young skin. 
3. Bubble Bounce Back Refreshing Toner
$12 (1.7 oz)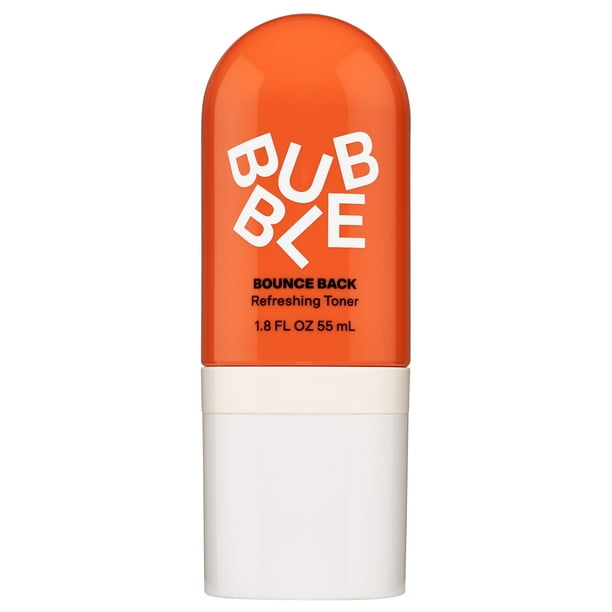 This is a great mini-sized product that's perfect for on the go skincare! Bubble's Bounce Back toner is made with sea water and contains niacinamide (an anti-inflammatory ingredient) and willow bark (which helps exfoliate the skin). Bubble skincare is widely available in many large retailers and is made for young skin. A great option for your teen skincare routine.
4.  TULA skincare Secret Solutions Pro-Glycolic 10% Resurfacing Toner
$42 (3 oz)
Glycolic acid exfoliates while probiotics leave skin appearing smooth. TULAs resurfacing toner is good for all skin types. Chicory root helps balance the skin, and the formulation is gluten-free and cruelty-free (as are most of the toners on the market). A pH-balancing and gently exfoliating gel-toner with probiotic extracts and glycolic acid to leave skin looking smooth and even. TULA was founded by a gastroenterologist and uses probiotics to nourish the skin.


 5. Tower 28 Beauty SOS Daily Rescue Facial Spray
$28 (4 oz)
Hypochlorous acid is the focal ingredient of this toner that balances the skin and settles inflammation. Water and sodium chloride are natural to our body and are additional primary ingredients in this formulation. Tower 28's Beauty SOS Daily Rescue Facial Spray refreshes the skin, and the spray delivery allows a quick application of the product. Tower 28 is a clean beauty brand that follows the National Eczema Association's guidelines for skincare ingredients.
Girls have specific skincare needs, especially in their childhood, teen, and tween years. The right facial toner can help you achieve bright, clear, healthy skin. We hope that this guide to teen facial toners will help guide you as you select the ideal product to work with your skincare needs!
--Dr. Angela